Services
We offer a wide range of services to cater for your electrical requirements. If there is a service you need that is not listed below, please contact us for a direct consultation.
Testing And Calibration
In accordance to the Electricity & Supply Act 1990, governed by SuruhanJaya Tenaga (ST),any protective relay and device of an installation shall be checked, tested and calibrated by a competent person once every two years

Services Provided

Supply & Installation of New Main Switchboards (MSB)
Upgrading LV system to HT Supply
Troubleshoot of LV system problems
Maintenance of Main Switchboard
Testing and Calibration of 11kV/415V Earth Fault and Overcurrent Relay
Service, mechanism check, trip test, IR test and cleaning of Air Circuit Breakers
Checking the integrity of cable and connections within the switchboard
Checking of power factor level, power factor relay, its setting, contactor, full amperage check for capacitors
To clean the interior of the LV Switchboard including tightening of the busbars and cable connection
Provision of Endorsed Report by Service Engineer and recommendations (if any)
High Voltage
Services Provided
Supply & Installation of Transformer (TX)
Supply & Installation of Vacuum Circuit Breakers (VCB)
Service and Maintenance of HV installation
Troubleshoot of HV system (ON CALL/BREAKDOWN)
Testing & Commissioning HV installation
Vacuum circuit Breaker (VCB) test
Calibration of OCR and ELR
Contact Resistance Test
Timing Test
Transformer (TX) Test
Winding Test
Ratio Test
Insulation Test
Vector Group Test
Polarization Index Test
Tan Delta Test
Pressure Test
Servicing & Overhaul of OLTC
Filteration of Transformer Oil after Oil Integrity Test
Competent Persons & SLD
BO Chargeman
AO, A1, A2, A3, A4 Chargeman
PW4 Wireman
Schematic Line Diagram of Switchboard
What is Power Factor?
Power Factor is a measurement of how effectively you are using your electricity
A Power Factor (PF) of 1 means 100% of the supply is used efficiently
As PF decreases from 1, it means the use of power becomes less efficient
A PF of 0.85 and less means the use of power is very inefficient and as a result TNB charges a penalty
Power Factor Penalty
Penalty charges are incurred on your electricity bill when your PF falls below 0.85
1.5% surcharge of the current bill- for every 0.01 less than 0.85 PF
If your PF falls below 0.75 the penalty charge increases
3% surcharge of the current bill- for every 0.01 less than 0.75 PF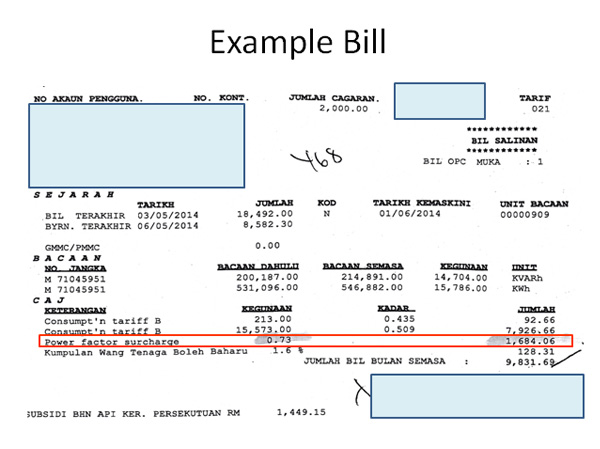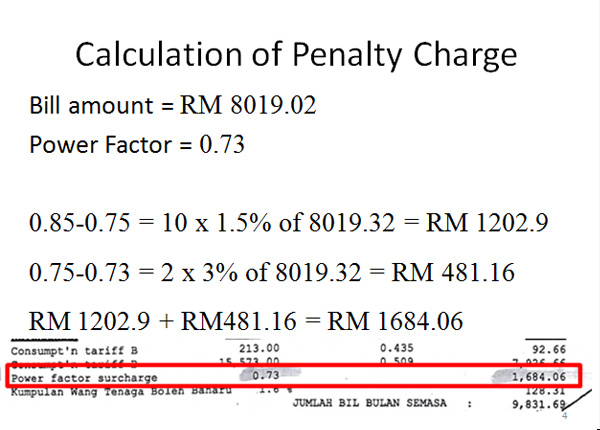 To understand power factor, we need to start with the definition of some basic terms:
Kilo Watts (kW) is Working Power
It is also referred to as Actual Power, Active Power or Real Power It is a measurement of the power that actually powers the equipment and performs useful work
Kilo Volt Amps Reactive (kVAr) is Reactive Power
It is the power that magnetic equipment like transformers, motors and relays need to produce the electromagnetic field
Kilo Volt Amps (kVA) is Apparent Power
It is the vector summation or the electrical combination of KVAR and KW
How is Power Factor Calculated?
Power Factor (P.F.) is the ratio of Working Power to Apparent Power.

Looking our glass of Cola analogy power factor would be the ratio of Cola (KW) to Cola plus the foam (KVA).
The kVA is supplied by the Power Station and amount of True Power kW and Apparent Power kVAr consumed is determined by the end user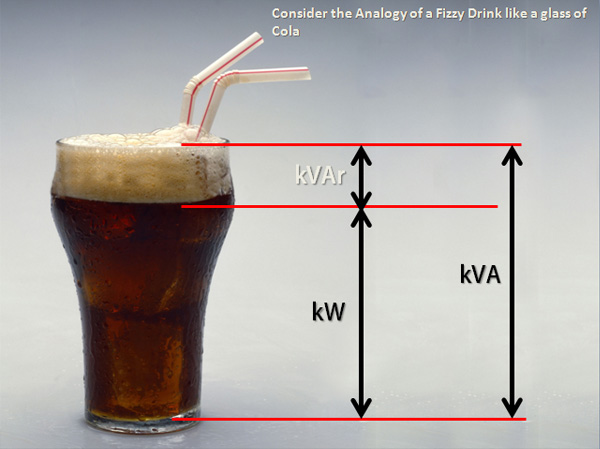 Power Generation & Supply
So Why Does TNB Charge for Low Power Factor?
If our use of power is inefficient i.e. if our kVAr REACTIVE power is high our Power Factor will be Low
TNB Generates Power in kVA so that even if our kW consumption is low if kVAr is high TNB's generating and supply capacity has to be increased in order to supply our inefficient power
So Why is TNB concerned about our Power Factor being Low? If we pay TNB a Penalty Charge for Low Power Factor they are making a profit!
Although TNB recovers some cost through Power Factor penalty charges it still costs TNB MORE to generate and supply the extra Power than its recovers through penalty charges.
Therefore TNB actively encourages their customers to reduce their Power Factor.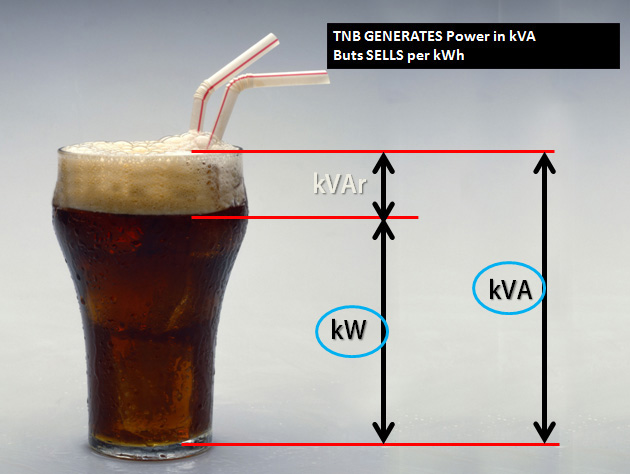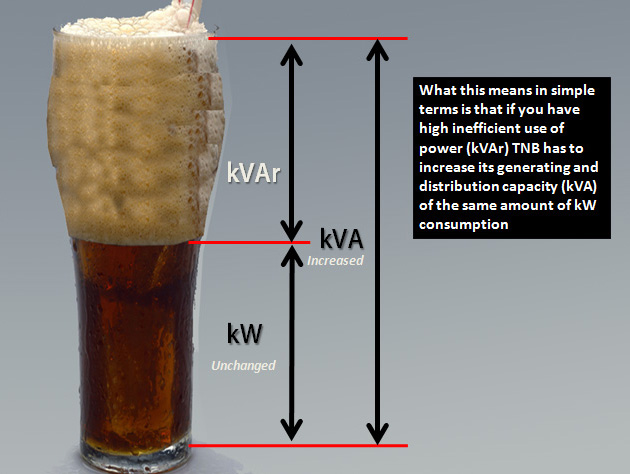 Call us today at 03-5879 9040 if you are experiencing a PF Penalty or 'Angkadar Kuasa Surcaj'. Make sure you have a copy of your TNB bill on hand for an accurate assessment.
What is an Energy Audit?
An energy audit is an inspection, survey and analysis of energy use for energy conservation in a building, process or system and a preparation of a report showing ways in which energy use may be reduced in the system without negatively affecting the output(s). It is a compilation of energy related data of the energy/mass balance in an energy using/producing system. Once a system is identified, its boundaries clearly specified, and all mass and energy inputs and output measured, it will be possible to tell where, how much and at what cost energy is being provided to a system.

A system can be a building or a part of a manufacturing process. To complete the picture of energy use it is also necessary to study energy use patterns and trends and to understand energy use as a function of time, productivity, building occupancy and load profiles.

In an energy audit you will be tracing the energy inputs and outputs. You will learn the quantities and costs of energy used at each step in the operation of a system, understand the patterns of energy use and see opportunities for energy savings. Only with the gathering of such information can creative or straightforward ways be developed to reduce energy use and costs. An energy audit should only be conducted if there is a commitment on the part of the Company to do something with the results.



Conducting an energy audit
An Energy Audit involves the following steps:
- Installation of energy monitor/analyser
- Collection of energy related data (2 weeks / 30 days)
- Writing an audit report (which includes identify energy saving measures and recommending Solutions)
Upon completion of the audit we are able to propose an implementation plan including estimated costing to execute the plan
Estimating implementation costs and energy savings of energy saving measure
There are 2 types of Energy audits, namely;
1. Audit at aggregate level - field data collection is necessary, provide a bird's eye view of monthly consumption, maximum demand (MD) exact time and date, trends in overall consumption.
2. Comprehensive audit- in-depth study of isolated machinery/production lines, production/machine consumption trend, identify peak consumption date and time, maximum demand (MD) exact time and date, trends in overall consumption, recommend suitable tariff ( C1/C2, E1/E2 ) based on consumption trends.
The energy audit will be conducted using the Klemsan KLEA-320P Energy Analyser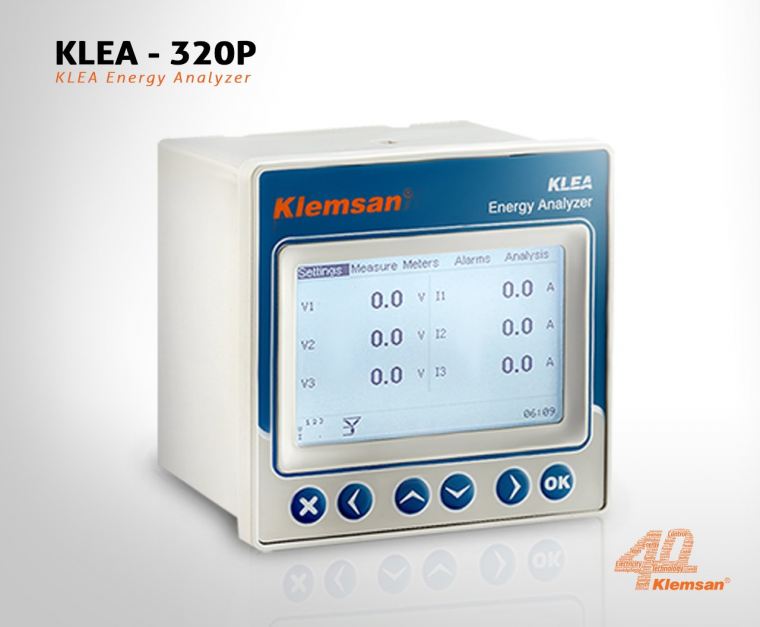 Data Collection Platform
The KLEA measures 68 different energy parameters in real time such as voltage, current, kW, PF, MD.
Able to set alarms when a particular parameter target has been reached
Demand Management
Monitor MD usage between 1 to 60 minutes.
Power Quality Measurements
Harmonics for current and voltage phases.
Installations
HV Switchroom & Substation Installation
Complete Assembly of HV Switchboard including. Switchgear, Busbar, HV cables installation and Protection equipment
Installation of Power Transformers and associated Protection Circuits and Cabling
Installation of Circuit Breakers, Current Transformers, Voltage Transformers, Protection Relays, Lightning Arrestors
HV Aerial & Underground Cable Installation
Excavation including. Pits and Conduit
Pole placements
Cable Hauling
Generator & Backup System Installation
Complete installation, including control wiring, protection relay, HV testing and commissioning

LV Switchboard Installation
Manufacture, test, install and commission LV switchboards
Rebuild existing Switchboards to clients requirements
Consultation Services
We provide a wide range of application services with regards to TNB requirements, which includes;
New Supply Application
Upgrading from single phase to three phase
Upgrading incoming supply from 100A up to 1200A
Upgrading incoming supply from Low Voltage (LV) to High Tension (HT)
Tariff Conversion
Enhanced Time of Use (ETOU) Conversion
What is Maximum Demand (MD)?
MD is the highest level of electricity demand in a particular month, measured in Kilowatt (kW).
Steps to reduce MD Charges
Consider switching to E2 or C2 (Peak / Off-Peak Tariff), depending on when MD occurs (at night / daytime) and whether or not MD can be shifted to off peak hours.
Understanding when your MD occurs by installing an energy analyser.  An energy analyser will be able to give detailed insights as to what time and what day MD occurs. It can also measure load factor. This information will be able to advise whether applying for OPTR or switching to C2 Tariff will be cost saving or not. Our company is able to conduct a comprehensive energy audit on your electricity consumption which comes with a tailor-made report complete with recommendations on how to reduce your MD charges and lower your electricity bill. Call our hotline 03 5878 9040 to find out more.
Why does TNB charge for MD?
MD is the peak load imposed by the customer to the TNB system at any point of time during a particular month. TNB needs to cater for this peak load when it is required by the customer. Since electricity cannot be stored, there must be sufficient and available generation, transmission and distribution capacity to meet this demand as and when it happens.
MD charges are practiced by almost all national utility companies in the world.
Connected load charge (CLC)
Connected Load Charge is a mitigating tool to discourage consumers from over declaring their load requirement. The charges are applicable for new medium voltage and high voltage consumers, upgrading customers (all supply, load, voltage upgrade), and Change of Tenancy (COT) consumer.
The government has recently approved an enhanced terms for CLC. In line with this, TNB will be implementing the enhanced terms starting 15th January 2021, these terms will apply to all consumers who submit applications to TNB after this date. Consumers who take supply before this date, will be subject to the previous CLC structure. Please contact us if you would like to understand more about CLC at our hotline 03 5878 9040.
How does TNB charge for MD?
MD charges are structured to reflect the time of day it is used, and specifically to encourage customers to control their electricity demand during daytime peaks.
How is MD calculated?
MD is monitored in 30 minute intervals throughout the day. Depending on your tariff, MD may be charged at a different rate and over a different time period:
Tariff

MD is chargeable

Duration

Rate

C1 / E1

Peak hours only

(8:00 am -10:00 pm)

14-hour period

RM30.30/kW

C2 / E2

RM45.10/kW
MD Charges are higher for C2 / E2 Tariff because they enjoy an 'Off-Peak' rate for electricity charges, whereas C1 / E1 is a flat rate across the 24-hour period.

MD = 290 kW
MD charges: 290 kW x RM30.30 = RM8,787.00
Please contact us if you would like to understand more about controlling your MD at our hotline 03 5878 9040. Thank you!
services